Bridgerton Fact Check: What was the Regency era really like?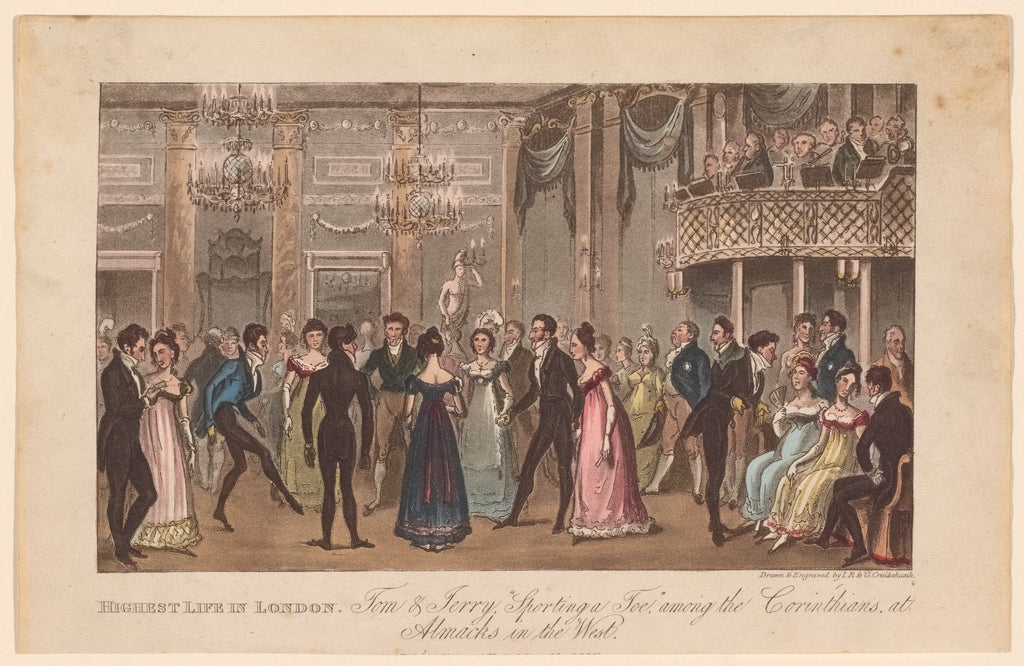 Like many of you who have since binge-watched Bridgeton, you may be wondering what the Regency era was really like. Was it truly filled with fancy dance parties, overbearing mamas and gossip columnists like Lady Whistledown?
Well, hold onto your tiaras for a history lesson.  
The Regency Era of England began in 1811 and ended rather shortly in 1820. It was preceded by the Georgian Era (think of the birth of The Industrial Revolution). It was then succeeded by the Victorian Era (think the reign of Queen Victoria).
King George III was judged as unfit to rule due to his illness (bipolar disorder it was presumed) and his son ruled as his proxy as Prince Regent. His son spent lavishly on paintings, buildings, and public works. The Regency period was lauded for its elegance and accomplishments in the fine arts and architecture. 
Society Life & The Marriage Market of the Regency Era
Although this period experienced the casualties of war (like many eras throughout history), society life underwent a period of great refinement in London and Britain as a whole. Fine arts like poetry, paintings, public works and commissions for architecture like Brighton Pavilion flourished under Prince Regent. For those who were well off (like the fictional Bridgertons), the pressures of the marriage market was a real endeavour. Courtship and marriage was a closely regarded affair which did indeed involve mamas (to a certain extent) eager to advance their daughters stations in life. 
It was a male dominated world and unfortunately, women were considered properties of their fathers and then to their husbands - there was little room for choice (sorry Daphne). 
 Was there a real Lady Whistledown?  
Although a fictional character, there were in fact several Lady Whistledown 'gossip newspapers' floating around in London during the early 19th century.  Many factors encouraged the creation and distribution of 'scandal sheets'. Libel laws, removal of the licensing act and diminishing importance of the monarchy allowed for a greater freedom of individuals to self publish (who had means).
The Morning Post and Town & Country were the two popular tabloid newspapers who chronicled the social lives and scandals of the England's elite. Often with wide feverish attention and readership.
Fashions fit for a Lady
One cannot help but notice the great care and attention that the ladies of Regency England invested in their clothing (not to mention the gentlemens' attire, or dandies as they were called). 
In this era, the heights of fashions were based on the Empire silhouette --- dresses that were fitted closely to the torso just under the bust and falling loosely below. 
'Undress' was the style of the day, casual and informal, which was inspired by the neoclassical tastes. Any lady wearing this gown would be worn from morning until noon depending on her social engagements of that day. 
It was important, as Bridgerton highlights, to portray one's wealth, etiquette, intelligence, family status and beauty through one's clothing and accessories.
Women were to rely on their husbands both socially and financially. At the time, the only socially acceptable event where women could participate were social gatherings and all important evening parties. 
These parties helped to build relationships and connection with others. As etiquette dictated different standards of attire for different events, afternoon dress, evening dress, evening full dress, ball dress, and different types of dresses were popular. 
George Cruikshank, Public domain, via Wikimedia Commons 
Jacques-Louis David, Public domain, via Wikimedia Commons
 Important People during the Regency Era 
King George III, King of Great Britain and Ireland
Jane Austen, prolific author of Pride & Prejudice and several others
Lord Byron, a British Romantic poet and satirist
Queen Charlotte,  wife of the English King George III (1738-1820)